Hey, y'all. 🙂

It's been forever again. 🙁
The TLDR version of the rest of this: health hell for 15 months…all kinds of tests…finally found out what was wrong…new med…feel like a new person…back on keto…super happy.

I have been to hell and back with all the health stuff. 🙁 Every time I thought I was finally turning a corner boom the lupus would hit me with something else.

I also made myself worse by eating wheat/gluten for months. In October I had to have an endoscopy and colonoscopy to try to figure out why I was coughing up and passing blood. So I wanted him to look at the celiac stuff while he was in there. I've tested positive twice and negative once. I've honestly never really thought I had it because I've never fully reacted to wheat the way I read about other people reacting to it. So anyway for the test you have to eat wheat for weeks (which turned into months). I did and of course it didn't end well. At all.

BUT we finally seem to have some answers to all of the digestive issues. It hasn't been my stomach (well not the primary cause anyway). It's been my pancreas. I'm not producing the enzymes to break down food and after all the testing my dr put me on this miracle med: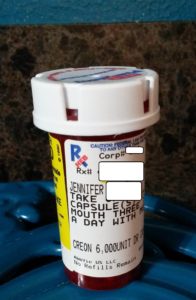 I'm not exaggerating when I say this saved my life. Emotionally I'd slipped to a dark and scary place. I didn't want to live in so much pain anymore.

I hadn't slept thru a night without reflux in 15 months. I was on so much stomach / acid blocker meds and was having breakthrough reflux almost every single night. Basically the way I understand it now is that I wasn't producing the enzymes to break down my food and that was in turn causing my stomach to way way way over produce all the acid.

The acid blocking meds are known iron blockers and my iron also plummeted to dangerously low levels.

2 DAYS on the CREON and I was like a new person. The stomach pain…the horrible never ending reflux almost immediately gone.

I went back on keto and feel like a completely different person.

So where I am now…
I started keto / low carb high fat on September 6, 2018. Between then and October 2, 2017 I lost almost 80 pounds. Then the ear misdiagnosis and all the unnecessary antibiotics sent me on a year long spiral.

I gained 35 back.

Happy to have not gained it all back but also not happy ya know?
Anyway that's just a long update that wouldn't fit on insta where you can find me more regularly. 🙂