So hey, y'all.  🙂
I can't believe it's been 6 months since I've even opened up this page.  I've been active on insta but just not here.
All that stuff with the ear and antibiotics and all that crap just really messed me up.  🙁
I've been back to lchf / keto since May 2nd.  It's been…interesting.  A little different from the first time around.
I got almost all of the awesome keto benefits right away but I didn't get the weightloss like I did when I originally started in 2016.  The first 2 days I lost 4 pounds and then a few days later gained it right back and then just stuck there.  It's crazy because I came from eating basically nothing but sugar and carbs.  I should have had a huge woosh.  Something is clearly going on with my body.  I was keeping my carbs below 25…and most of the time much lower.  Something's up.
I posted this pic on instagram May 14 and wrote about it there but it's like almost all of the weight gain went right to my upper body.  I can't stand it.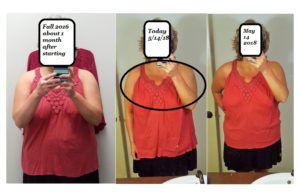 Last week after a really really bad digestive 'episode' I decided to dip my toes into carnivore life.  I decided to take out everything except meat, seafood, eggs, cheese, sour cream, cream cheese, butter, some spices, pickles and mayo (no one will ever take my pickles or mayo)  😉  and then when / if I decide to add stuff back in I'm going to do it one thing at a time so I can figure out exactly what is causing me the most digestive distress because it's bad, y'all.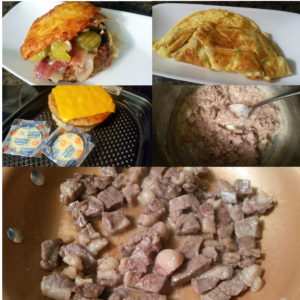 Today is Day 9 and I've eaten lots of what's pictured here: cheese bun burger (again…this Czechsan is never ever giving up pickles), ham and cheese omelet, sausage mcmuffin no bun plus butter, and lots of meat straight out of the pan. It hasn't been too bad. This is something I've thought about doing for a long time but just finally had enough of the pain and wanted to see if I could feel better without some stuff I was forcing (vegetables) and all the nut based fake sugar treats that I was increasingly eating more and more of.
During this past week I've lost 5 pounds over the course of the week (not in one big woosh) and I haven't had any scale rebounds.
Right now a bunch of bro heads have taken over the whole carnivore thang but there's a large group of people who have been eating this way (only they're even more strict…just meat and water) for a long time. I first stumbled across them when I originally did low carb back in 2008. I wasn't interested in it back then and kind of thought they were crazy but after the past week I'm thinking maybe they were onto to something.
Do I think I can do this forever? I don't know but I definitely want to give it a good 30 day try.   🙂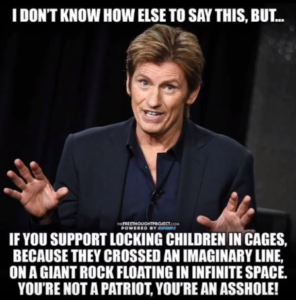 This has had me so emotionally messed up for weeks.  My first degree is is Early Childhood and I've always been a huge child advocate.  I can't believe I live in a country that would lock littles in cages…and that a large number of people think that's perfectly fine.  🙁   It's so disgusting that I've almost run out of tears (and words).
If I make it to Heaven one day I hope so very much that there is a viewing area where we get to watch these horrible horrible pieces of shit…and those who voted them into power…burning in hell. I hope that so so very much.  I'll plop myself down with a bottle or 10 of wine and enjoy the show.  😉  Thoroughly.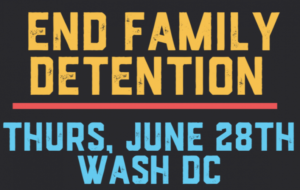 Participate if you can. If you can't and want to do something to help…donate.
From the website:
This is a DEFINING moment. One that will shape our generation. We cannot be silent. We need bold, strategic and targeted action.  …  Your donation will support direct action training, legal assistance, and a bail fund for the women prepared to put their bodies on the line to defend immigrant families and children on June 28.  These children and families are counting on us. We cannot allow these atrocities to go unchallenged. The time to ACT is NOW.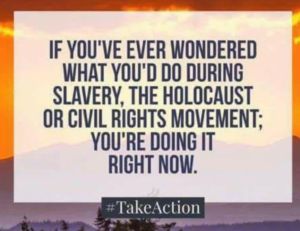 Alrighty that's all for today.  I'll keep y'all updated on how the carni life is going mostly on insta but here too now that I'm feeling more chatty.  🙂
Y'all have a great week and I'll see you soon.  🙂