You know what they say…If you wanna make God laugh tell him your plans.  🙂
Hey, y'all.  🙂  It's been a while…again.  🙁
So yeah.  Last time we met I was all excited and happy about being back on keto and all that.  Then literally the next day I started throwing up blood again and having terrible stomach pain. If I ate anything that wasn't soft or bland the stomach would act up in violent ways.
I got real depressed.  Like real real depressed.  🙁
My body just does not want to let go of the lupus flare it's in. My most recent sed rate was 137.  My pain / inflammation is worse than it's ever been and because of the stomach issues plus my blood thinner I'm very limited in what I can take for inflammation and pain. My dr is back on my insurance and she's sending me to a new GI dr in Sept so hopefully this one will be better than the last…honestly it wouldn't take much.
Anyway I had to finally stop trying to force it. Stop wishing and hoping and pining away for keto/lchf. I loved keto / lchf. It did something to my brain and made me happy. But I can't keep doing this to myself.
So…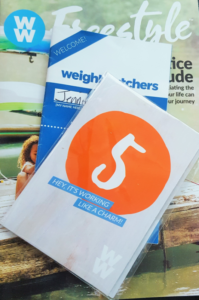 I hadn't written about this yet or even shared it on Insta because I was waiting to see if it was something I liked and would want to keep doing. So far I like it.
I lost almost 80 pounds on keto/lchf and at my first WW weigh in I'd gained almost 30 back. I absolutely REFUSE to gain anymore. I worked way too hard for that loss and I'm not gonna let this dumb body of mine take me back.  🙁
I had to try something so I joined WW…which I call the Oprah plan because I adore Oprah and am always quoting her to the fam/friends. 🙂
At first I was just messing around with it and doing it online only and just bouncing up and down the same 2 pounds.
Then they sent me an email offering me a discount if I added meetings to my plan. I thought why not? And told myself I'd be happy if it did nothing else but keep me from gaining back more than I'd already gained.
My second weigh in and I got my first charm.  I was super duper happy about that charm.  Rumor has it WW is getting rid of charms.  Hear this right now WW / Oprah I'm gonna be real damn mad about that. I want all the charms. Peeps in my meeting were real mad too and were saying if it happens they're gonna buy 'em used online.  But I don't want used charms. I want my own.  O Dubbs, don't let me down.  😉
There's only one meeting that works with my location / schedule and I don't really enjoy parts of it but I like the group a lot. The current plan is called Freestyle and it's interesting but not something I could do for months or years or forever. Some of my meeting friends gave me tips to help make it more livable though and so far so good.
I'm signed up for 6 months so I'm gonna give it a good try.
Anyway that's what been going on here.   This page will still probably only be updated from time to time because I'm just not feeling well at all right now but I do plan to get more active on Insta again so follow along there if you're interested.   🙂