Hey, y'all. 🙂
It's been awhile again. 🙁
A bunch of stuff is going on here.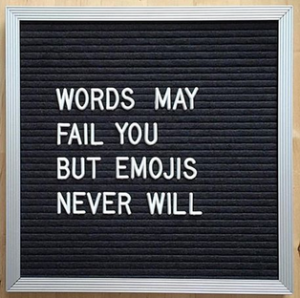 🙂
The business is awesome. 🙂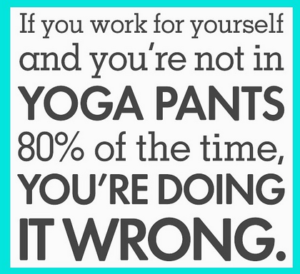 😉
I've been trying to get some health stuff taken care of before those @ssholes in congress / those of you who put them there condemn those of us with preexisting conditions to certain death. 🙁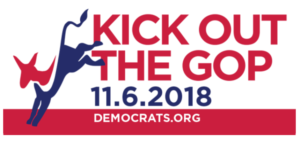 (Thanks for the bumper sticker, democrats.org.  As always…love y'all but no not putting anything political (or anything other than the Aggie sticker) on the car.  I will however share it here.  🙂 )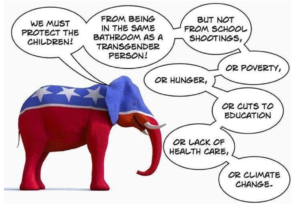 🙁
Two weeks ago I had to have a bunch of blood work and x-rays. Then last week I had to have both legs scanned for possible clots.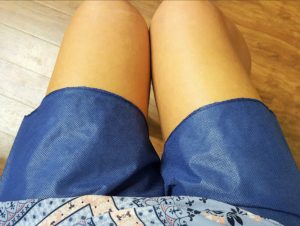 They gave me these lovely disposable plastic shorts to wear. Look how baggy they were. 🙂
I've always had some circulation issues from the previous clots but it's gotten really bad over the last year or so and they were looking to see exactly what's going on.  I won't know results til next week when the dr gets back from spring break. (If there had been any bad clots they would have let me know immediately…so now it's just waiting to find out what if anything else they found.)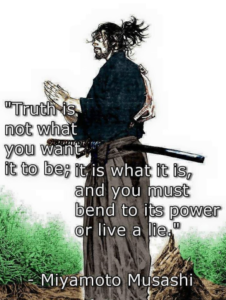 Then Mama B got pneumonia 🙁  (She's doing much much better today)  🙂  Poor thing was sick on her birthday. 🙁  Happy b-day, best Mom to ever walk the face of the earth. 🙂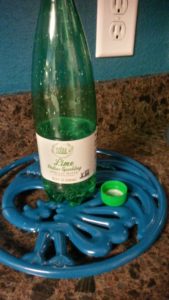 I LOVE  this lime mineral water from Whole Foods.  I add a few drops of liquid splenda and it's like a milder Sprite.
I got my blood work back and some great news…my iron is up. 🙂  The whole reason I started eating keto though was to get my inflammation down and those results were still awful. 🙁  But I'm ecstatic about the iron. Y'all know how I've struggled with it for years. I'd tried everything to get it up and now 6 months of eating this way and it's finally within range. 🙂  I'm feeling it too. I've got energy I haven't had in ages.
Other eating news…I'm back on dairy (cheese / butter / cream) and so super happy. 🙂 I take a digestive enzyme if I have more than a slice of cheese and it's working great.  I missed it a lot.  It helps make eating like this easier and I'm all about staying on track right now.
So…last Monday was 6 months of no grains or sugar (I also had 3 1/2 months of no dairy mixed in there too).  6 months, y'all. I'm so proud of myself for sticking with this as long as I have…and for continuing to stick with it. 🙂
I was at the dr the next day and…I've officially lost 50.2 pounds…with clothes on. 😉
I also happened to go shopping after the dr.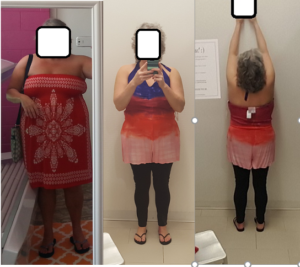 Left pic: before. Other two pics:  last Tuesday.
I've been checking the clearance racks for any cheap left over spring-y / summer stuff since I'm still losing and don't want to waste money on stuff that will only last a month or 2.
I saw this halter jumper and thought it was a halter dress. I didn't want to get completely undressed so I just put it on over my leggings and then realized it wasn't a dress.   By summer it will be perfect. 🙂
How did I celebrate -50.2?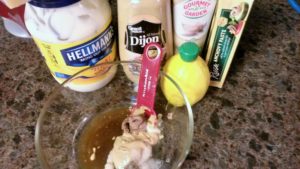 Homemade ceaser dressing.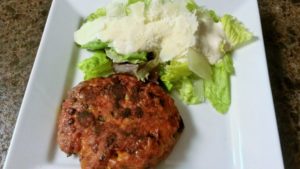 Salmon burger.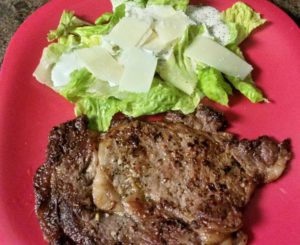 Ribeye.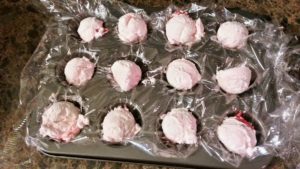 Cherry keto fat bombs (cream cheese / cream / splenda drops / vanilla / cherries).
So, yeah I'm still going strong with this.  I did recently get back to strict 25 carbs or less 5 days a week. 50 grams or less 2 days.
For about 5 weeks I'd been doing more Paleo style eating and even though it was all safe food and I continued to lose weight the higher carbs were making me hungry all.the.time.  A couple days back on strict keto and that went away.
Ok that's all for now. Y'all have a great week and I'll see you soon. 🙂