Yesterday would have been my Meme's 96th birthday.  I've written about her here and here.  As a way of keeping their memories alive I always make certain foods on my loved ones birthdays / aniversaries / etc.  Normally I'd do some chicken fried steak in her honor but I just don't have the energy for that right now so I stuck with chocolate chip cookies.  And let me tell y'all…they were fabulous.  🙂
These weren't just any old cookies.  They were malted milk chocolate chip cookies. Recipe at the end of post.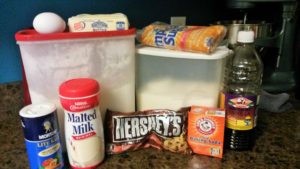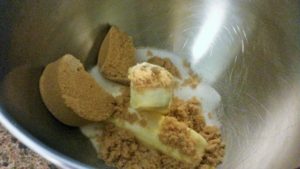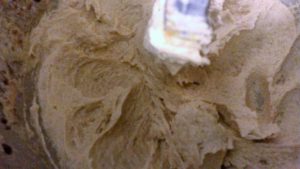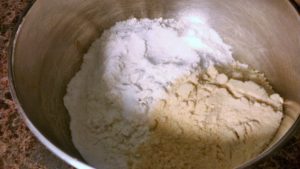 The tan-ish color stuff is the malted milk powder.  I'd never used it before.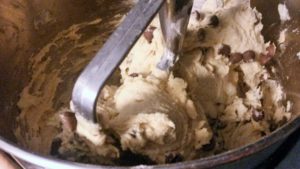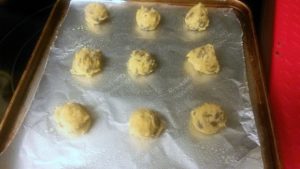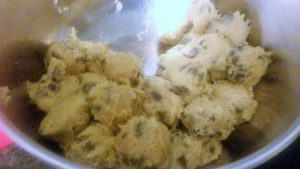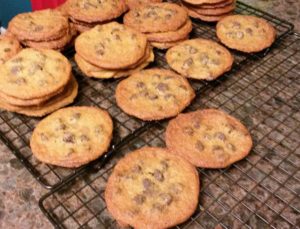 Forget what I said on Monday about making the apple dumplings right away.  Make THESE right now. They were so delicious.  And I think made a perfect tribute to my Meme.  🙂
Along with my love of cookies, chicken fried and cooking in general she was also 100% responsible for my love of Elvis.   Happy Birthday, Meme.  You were the very best. 🙂
https://www.youtube.com/watch?v=MtsmuVA0m7c
Malted Milk Chocolate Chip Cookies 
1 cup (2 Sticks) softened Butter
3/4 cups Brown Sugar
3/4 cups Sugar
2 Eggs
2 teaspoons Vanilla Extract
2 cups All-purpose Flour
1 1/4 teaspoon Baking Soda
1 1/4 teaspoon Salt
1/2 cup (scooped…don't level off) Malted Milk Powder
1 bag Milk Chocolate Chips
Directions
Preheat oven to 325*.
Cream butter.
Add sugars and mix til fluffy.
Add eggs and vanilla and beat until combined.
Sift together flour, malted milk powder, baking soda, and salt.
Add to butter mixture til combined.
Add chocolate chips.
Bake for 8 to 12 minutes.  I used the convection oven and it barely took these 8 minutes so keep an eye on your first pan to gauge time.