Hey, y'all. 🙂
It's little Friday.  AKA Thursday.  🙂
Do y'all have big super bowl plans this weekend?
No health news this week.   Trying to fight thru the pain while I get my insurance situation settled.  I might write about the insurance drama soon.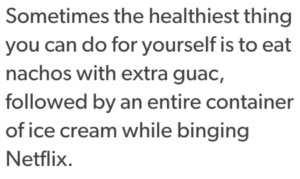 😉
Did y'all watch the OJ show this week?  I was addicted to the OJ drama / trial when it was happening.  I think the casting for this new tv show is pretty spot on except for Travolta playing Shapiro.  I can't buy that at all.  I also think it's a sign I've been watching too much Roku content when I can't stand the thought of having to wait 10 weeks of watching to get to the end of the series. Instead of being able to binge it all in a few days.
______________________________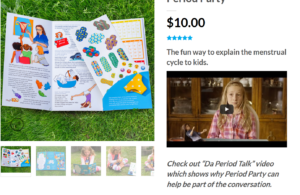 All the talk about the new Barbie lead me to an article about this other body positive doll, Lammily.  100% cool with her but the pic above?  You can order a "Period Party" kit for her. A booklet about periods plus period underwear with sticker 'pads'.  What?  I get the whole point of the doll is to give girls a realistic body image and I'm all for open body talk with kids but I mean wouldn't the kids playing with these dolls be a little young for period pad stickers?
________________________________
Watched this docu, Iris. About quirky stylist Iris Apfel.
This lady.  She's just as quirky as you'd imagine her to be.
_____________________________
My latest coloring book creation.  Coloring really does zen you out.  🙂
_______________________________
So next Tuesday is Mardi Gras and of course King Cake time.  I decided to make individual King Cakes this year.
After rolling up I had a few busted spots…
…which were easily covered with the icing and sprinkles.  For size context that's a square salad or side sized plate.
Y'all know how I feel about tightly / multiple rolls King Cakes…it's not a King Cake if it's not flatter / loosely rolled. 😉
This was the best gluten – free King Cake I've ever made (or eaten).  I used half of my usual recipe which is just the Southern Living recipe which calls for sour cream.  I used gfJules flour and instead of sour cream I used vanilla yogurt because I've been playing around with a base / do it all type dough for a while and I've been using plain yogurt in it and really loving the results.
I still can't say enough good stuff about gfJules flour.  I just ordered 32 pounds. Of course about 5 hours after I placed my order she sent out a 15% off everything coupon so I missed out on that but I think it's still going on if y'all want to check out her store.  I'm not sure but you might have to subscribe to her daily email to get the discount.  If you're at all interested in ordering some you should sign up anyway.  She sends out a recipe each day and the email has different sales / discounts each week.
That's all for today.  Thanks so much for reading. See ya soon. 🙂