First…Happy Birthday, Mama B.  🙂  I say this all the time but it never hurts to say it again…in the grand parental lottery we got the Mega times a kazillion.  🙂  Love you muchos, Mama B.
Some recent eats…
Mini pizza.  Icebox dough used for pizza and free shaped loaf / garlic bread.  Served with…
Pasta bake.  I made a basic white sauce.  Added tomato sauce and parm.  Boiled / drained some pasta.  Stirred in sauce and mozz.  Baked til bubbly.  It was super delish and so easy to make.  If you don't mind store bought stuff you could just use a jar of white sauce  instead of making it from scratch.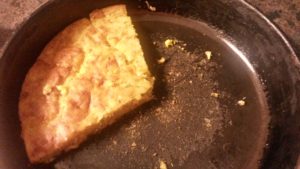 Jalapeno cornbread.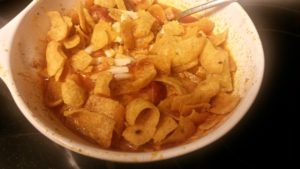 Cold rainy day Frito Pie.  🙂
Mama B wanted a batch of Neiman's Chocolate Chip Cookies for her birthday.  She still eats very little sugar but does have the occasional treat.  🙂
As you can see I'm cooking more now.  I'll write more about this soon but for now let's just say…I'm so much happier.  🙂
Radom what else?
Sewing is still on the backburner.  I do plan to get back to it but not sure when.
I'm in the middle of planning a big fun trip.  Is it crazy I keep picking places that are also song titles?  🙂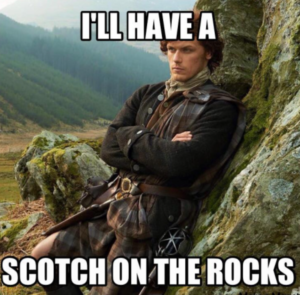 Three weeks til the #droughtlander is over, y'all.  🙂  I'm such an Outlander fangirl.  So ashamed.  No not really.  😉
Racist white scum in Oklahoma?  Oh surely you jest, CNN. >;)
This is the very best thing about social media and everyone in the world armed with a cell phone.  Horrible people like this getting exposed.
That's all for today.  Hope y'all are having a great week.  See you soon.    🙂