Hi, y'all.  🙂
Hope your week was good.  For me it's been a long one…full of horrible fire place smoke smell everywhere…2 days of interent problems and the horrible customer service that went along with it…plus some sort of sinus problem thrown in.  I hope it's just my body purging out toxins.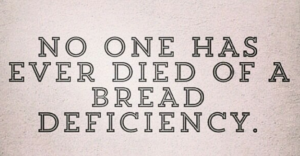 Change 'bread' to 'cheese' and that's the message I'm needing today.
I started out the month with the plan of doing a full Whole 30.  I did that for 10 days and then added in cheese…still keeping to all the other Whole 30 rules.
Taking the cheese out and then adding it back showed me how much it really does affect me.
SO…I'm back to trying to live without it and really really not enjoying it. 🙁
But on I go.  🙂
Last time we met I was going out for the first time since all these changes.  Obviously I survived.  Mexican too.  🙂
Taco salad.  Since I can't use commercial dressings I used guac and salsa to make a dressing.  It was really good.
This is one of the best kitchen tool investments I've ever made…and y'all know I love me some kitchen tools. 😉
It's the Instant Pot.  An electric pressure cooker.  It. Is. Amazing.  I've done stews, several batches of short ribs, our Thanksgiving turkey breast and now some vegetables.  🙂
Isn't that gorgeous?  My Meme would be so proud.  🙂
Green beans, red potatoes, and a ham hock.  Remember I'm using Whole 30 rules for my jump into paleo…they allow potatoes.
I can't recommend the Instant Pot enough.  It makes meat so tender.  The short ribs are the house fav so far.  They're so good they're always gone before I even get a picture.  🙂
That's all for today.  Y'all have a good weekend.  🙂
https://www.youtube.com/watch?v=zpo6uJB1Gyk