Hi, y'all.  🙂
First, thank y'all so much for indulging me with the last post and even more for reading it. I know it's my blog and I can write about whatever I want…and I will always do that…but without you reading it would just be a journal or something. So thank you. 🙂   I have a few more things to add about that topic and will mix them into the randoms then I'll move on til the next incident of athlete behaving badly.  🙂
Thank you to the new subscribers. 🙂  When I switched to this blog I was worried about expressing myself but holding back just isn't me.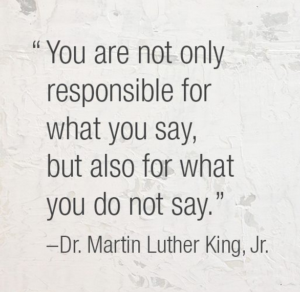 Words I will always live by so thanks for embracing that whether you agree with my point of view or not.  🙂
Since we last met…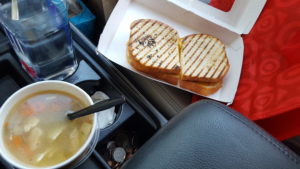 Panera in the car.  Yum.  But is it really a grilled cheese if it's not cut diagonally? One of life's most philosophical mysteries.  😉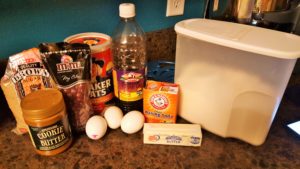 So this happened.
Remember that $10k package of maroon M&Ms I bought a while back?  Well I also had a full jar of Cookie Butter that I need to use.  So I made some Monster Cookies.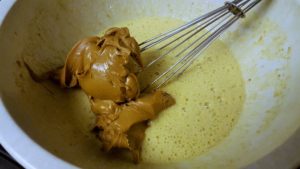 3 Eggs, 1/2 cup each brown and white sugars, 2 tsp vanilla, 2 tsp baking soda and 1 cup nectar butter of the Gods (Cookie Butter). 🙂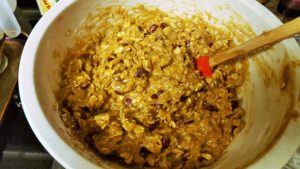 4 cups Oats and 8 oz M&Ms.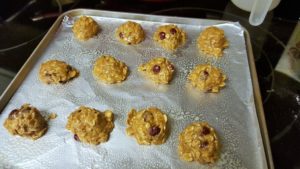 Baked 350* for 12 minutes.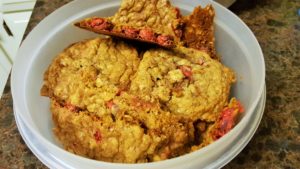 I will most definitely use Cookie Butter in this recipe again.  But next time I think I'll use butterscotch chips.  Don't get me wrong these are really good.  I just think with it being cinnamon everything time of the year butterscotch chips and some more cinnamon in these would be divine.
Randoms…
In the year 2015 people are still this misguided / awful / hateful?  I don't know what antiquated research this judge cited but it's funny…the most horrible parents I know are all (as far as they let on) heterosexual.
Someone actually contacted me once here on this blog and wanted to know if I'm gay.  Not that it's any of your business but no I am not.  Someone important to me is.  But ya know what?  Even if I didn't know one single gay person I'd still call hateful people out on their bullsh..  Because this is 2015 and it's way past time for this to stop being a conversation.
I don't know where you're located, Grace Lutheran Church but Amen x infinity. 🙂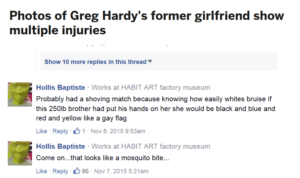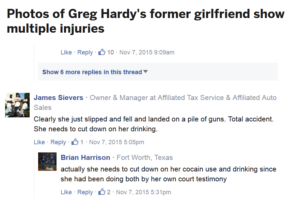 Humanity, we have a problem.
Those are screenshots of commenters blaming the victim or minimizing her bruises. There are more comments like this than I cared to sit around and count.  I have zero problem posting these here.  They posted their comments on public comment sections.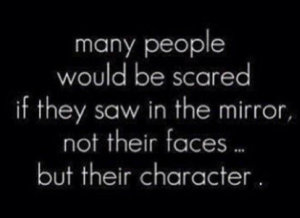 Y'all just keep right on shining a light on yourselves.   And don't think we don't see how defensive y'all are getting at being called out for supporting him.  Really boys (well mostly boys) y'all know you're wrong…stop acting out when being called on it.

Have y'all seen these scales that just tell you how much you've lost or gained?
I was on high dose steroids for a good part of this year.  From March to June I gained 12 pounds and then from Aug to Oct 13 pounds.  I'd reset the scale though between the two (thinking I was thru taking them and could start trying to get the weight off).  The scale just goes up (or down) so like I gained 13 pounds and didn't reset it…have now lost enough to take it down to 4.6.  Am I making sense? If you don't reset it won't show your minuses on the way down til you get back to where you were when you set it the last time.  Anyway.  I like it a lot.  The model I have lets you see your progress without the emphasis on the actual numbers.  I just checked the website though for the link and it looks like newer models can do both…actual weight or just the plus / minuses.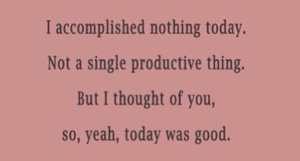 🙂
And lastly…
A reader reached out to me re: the domestic violence post and named some abusive musicians (because I put so much music on here).  I addressed this with him but want to say it here too.  I can't be responsible for knowing the background of every single person in the public eye.  What I can be responsible for is not supporting that person in any way once I DO know about their history.  I don't honestly think I've ever used the music of a domestic abuser on either blog but if I have and you want to call me on it…please do.  Because what you'll get in return won't be a bunch of excuses or defensive nonsense.  What you'll get is that video's immediate removal.  🙂
Y'all have a good weekend. 🙂
…and Keith, you always make things better too.  😉