Hey, y'all. 🙂
Happy Monday. 🙂
It's so cold here (low 50's) and I'm freezing to death. It's been a couple days and I'm ready for my summer back.  🙂
I finished up most of my Christmas shopping this weekend. Mostly online so now just have to wait on it to show up here.
I've been waiting on a bottle of peppermint oil to show up since Tuesday. I'm losing my patience, Amazon.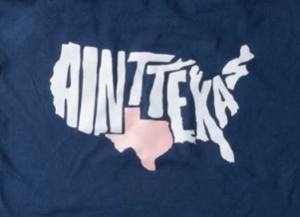 Love this so much. 🙂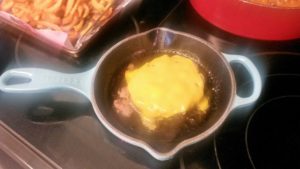 I've gotten some questions about the Follow Your Heart dairy free cheese I wrote about last week so I'm going to try to remember to take pics when I use it with different meals.  This one is to show the melt. We had hamburger night and that one was mine.  I didn't have the fries…that night…but I do allow potatoes a couple times a week or when eating out. The cheese melts great with some things and not so great with others.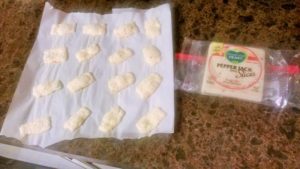 Are y'all familiar with cheese chips? It's a low carb staple. You take a slice of American cheese and fold it in half then half again and once more til you have 8 pieces. Then microwave til crisp. I tried it out with the Follow Your Heart Pepper jack and oh my gosh y'all. This is my new addiction.  🙂  These actually crisp up better than real cheese and they don't burn.  In my micro it takes 2 minutes and they are perfect.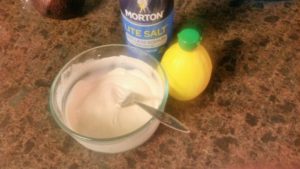 Cashew cream, lemon juice and salt = diary free sour cream.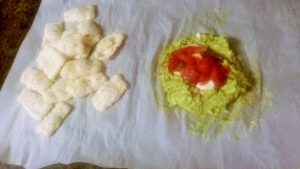 Lunch.  Avocado, dairy free sour cream, salsa and pepper jack chips.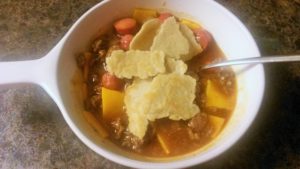 Here's an example of where the cheese doesn't melt super great. Chili with cheese and cashew flour tortilla chips. Tastes great but doesn't melt in the chili like it does on a hamburger.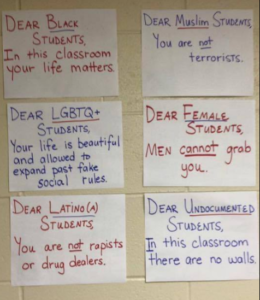 Teacher of the year. 🙂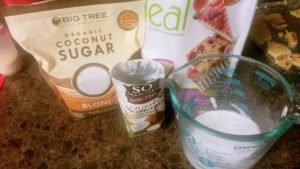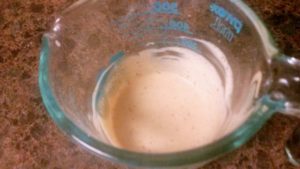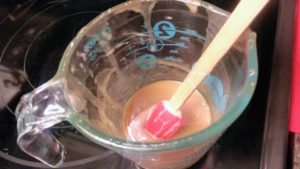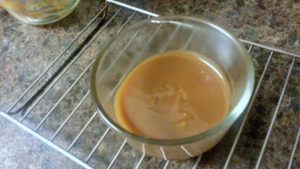 I've been trying to figure out some sort of Paleo version of a Christmas time treat to try.  I really want to stay away from a lot of treats but I also don't want to miss out on some holiday traditions.  One tradition we have that is really specific to my immediate family is toffee.
So I decided to test out some of the components…starting with caramel.
I had 1/3 cup of So Delicious coconut cream left in the icebox so I used it plus 1/3 cup Ideal plus 1 tsp coconut sugar.  Put it in a Pyrex measuring cup and cooked in the micro for about 4 minutes…stirring every 2o seconds. Then stirred in a 1/2 tsp ghee and a splash of vanilla.  IT WORKED.  🙂
I learned thought that I really really hate the taste of coconut sugar so if I make it again I will just use a 1/2 tsp of molasses. The carb count would be miniscule and would taste a million times better.
I say this is paleo-ish because Ideal contains Splenda which Paleo peeps thinks is the devil.  I do not and do use it. To make it textbook Paleo use all coconut sugar or xylitol or stevia or a combination of the three.
Reminder: I'm just me. I'm not paleo or anything else. I'm keeping carbs below 25 / day with the occasional spike…with the spike coming from completely on plan foods. My plan. Not yours or anyone else.  Keep the food policing to yourselves.  Thanks.  🙂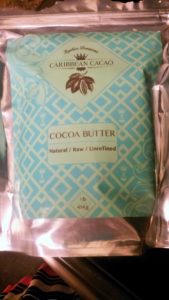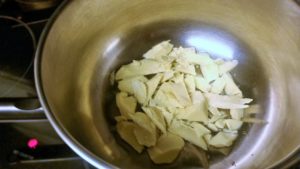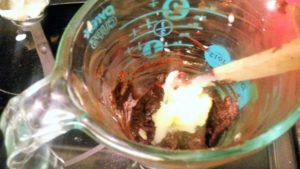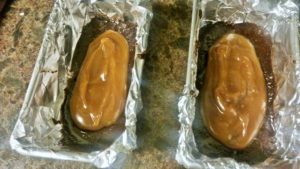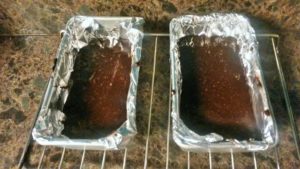 So once I had the caramel I had to do something with it.  I decided to test out some chocolate.  This didn't go quite as well as the caramel and it's still a work in progress.  I used the recipe for chocolate in Kelly's Paleo Chocolate Lovers' book and it was good but just not exactly what I'd want for my toffee…too grainy.
Like I said before…I'm not doing a lot of treats right now so I'm not sure if I'll keep experimenting or not but it's nice to know it can be done.  🙂
Some before and currents…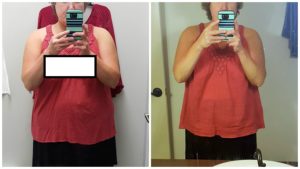 Shirt the day I bought it (in the dressing room) and 5 weeks later. 🙂
(white out because no bra) 🙂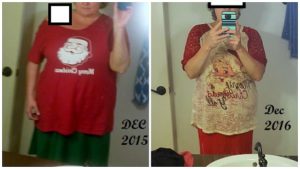 Santa shirt 2015 and Santa shirt 2016.
Isn't '16 Santa so cute? It says Merry Christmas Y'all. 🙂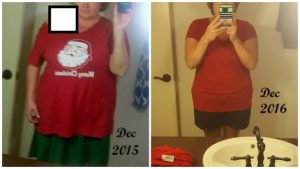 Red shirt comparison from last year to this year. (the white out is just covering up one of those horrible huge blood spots I had last year…don't want to look at those anymore).
Ok that's all for now.  Y'all have a great week…stay safe and warm and I'll see you soon.  🙂