Hi, y'all.  🙂
Before I get going today I have to use this space for some family memories. Non fam y'all might wanna scroll. 🙂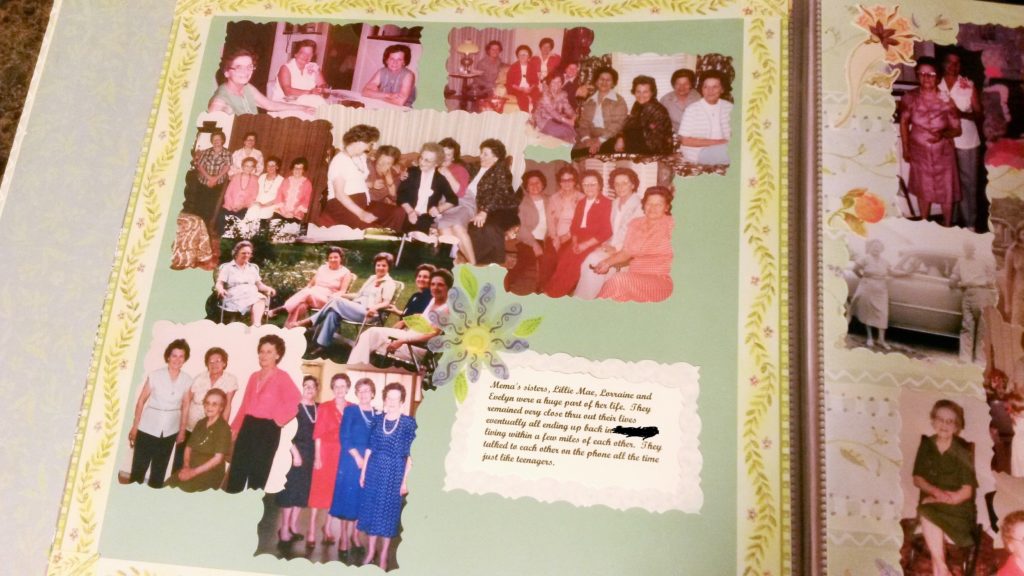 Sorry if this blows the margins.  Tonight these 4 ladies are all together again up in Heaven.  Mema's sister aka Papa Bear's Aunt and Godmother passed away this week. 🙁  Her name was Lillie Mae and she was a super sweet lady.  That's a picture of a scrapbook page I made. It's pics of the 4 sisters and their Mom thru the years.  You can't really see it without having a big view but to pick out LM all you have to do is look for the one person who was smiling in literally every single one of the pictures. 🙂 That's how I remember her. Always smiling.  She was a ceramicist…is that a word?…ya know…she had kiln and made ceramic stuff.  When I was 3rd / 4th grade-ish she gave me two molds…one was a teddy bear and one was a miniature bowl and pitcher set.  I would pour / paint them and she would fire them for me.  I would put them in Meme's beauty shop and her clients would buy them.  Pappy matched all the money I made that summer and I bought my first designer purse.  Yes I had a designer purse in 4th grade.  She also made these little ceramic Christmas trees and gave all 3 of us (Mama B, Sister B and myself) each one.  I went around to their trees and took out enough of the red and green lights so I could have an all red and green tree.  It's had its inside power source changed many times but I still have it. 🙂  Anyway she was just a cool lady and will be missed by those who knew and loved her.  Good healing thoughts go out to her immediate family and caregiver L…and super good thoughts to B and AR her daughter and granddaughter.  They lived in the same town as her and put in the day to day time with her. I know it's one of the hardest things in the world…being the one who watches parent / grandparent slowly leave…your heart breaking a little more every day but still getting up and doing it again the next day.  Y'all did her right and good.  🙂
Ok let's lighten this up a little bit…
While I had the family story scrapbook out the rest of the fam was looking at it too and…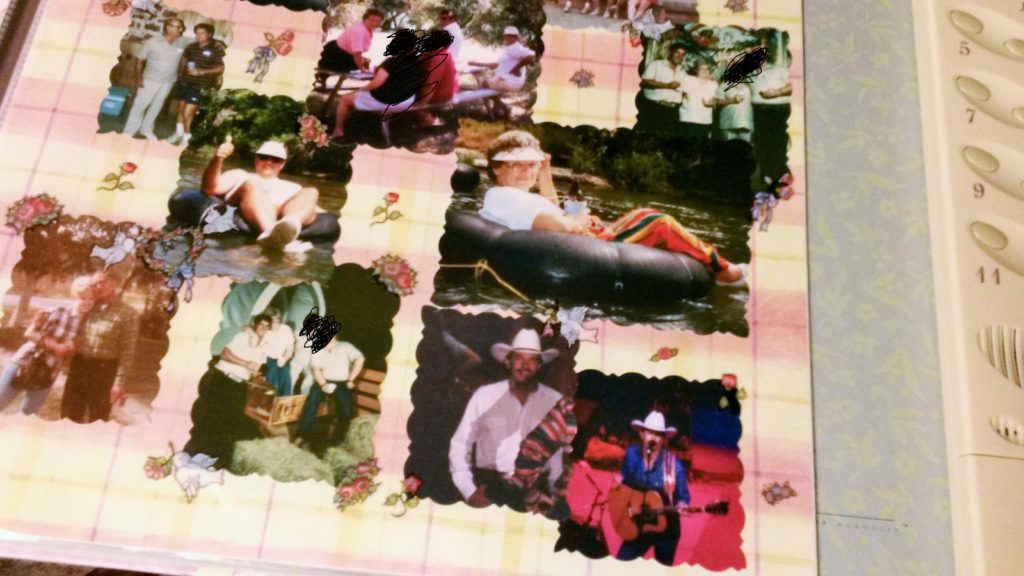 …do y'all see that lower right hand corner?  That's 2 pics of King George.  They were like "is that George Strait?"  Uhm duh he's my imaginary fam. 😉   Seriously that's been in the book for 13 years and y'all just noticed it?  Also if you're blacked out in these pics it's just for the blog I didn't black you out in the actual book.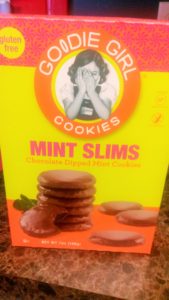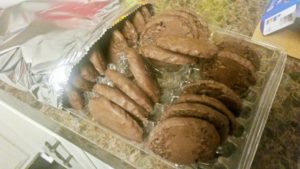 Have y'all seen these?  Gluten free. Women owned. I don't know how the Girl Scouts haven't had this pulled.  These are so close to Thin Mint's it's crazy. I found them at Cracker Barrel.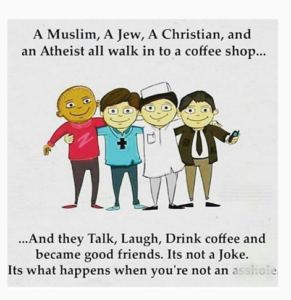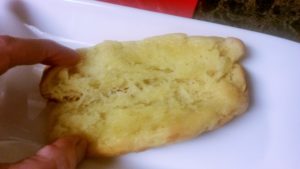 Look at that stretch. 🙂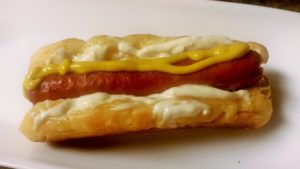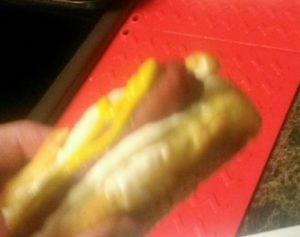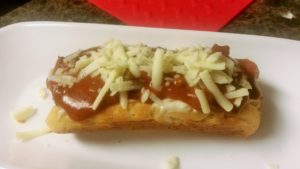 Made some hotdog buns with gfJules flour.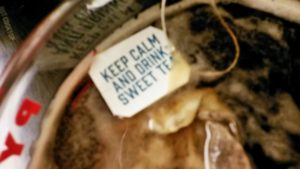 🙂
Now to the title of this post…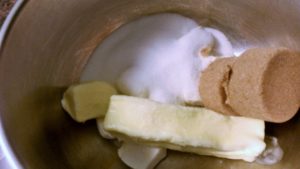 4 oz Cream Cheese, 1 stick plus 2 tbsp butter, 1 cup of sugar. I did half white half brown.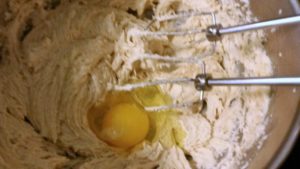 1 egg.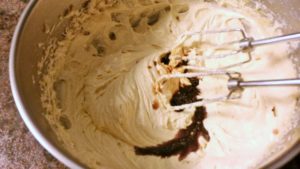 Vanilla.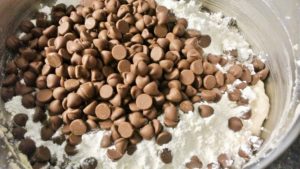 2 cups (270g) gfJules flour, 1/2 tsp salt, 1/2 tsp baking powder, pinch of baking soda, 1 bag chocolate chips.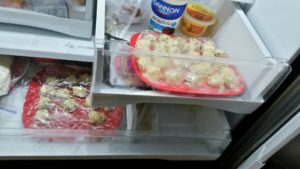 Mixed, portioned and into icebox overnight.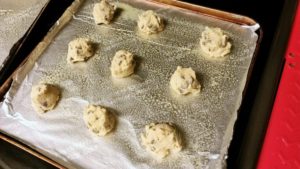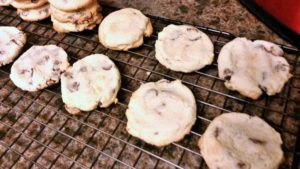 Baked at 350* for 12 minutes in the convection oven.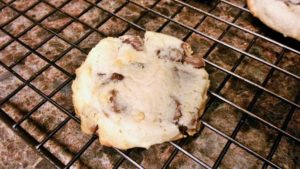 This dough was so0000 good.  And the cookies baked up and tasted good too but they are very soft.  As a household we like cookies that hold up to cookies and milk. These do not.  But taste wise the cream cheese really does take chocolate chip cookies to another level.  It was totally worth it for the dough alone and I'd definitely make up a small batch again if I had leftover cream cheese. 🙂
That's all for now.  See y'all soon. 🙂