Hey, y'all.  🙂
How was your Christmas Eve Eve?
Just kidding. I'm totally in the Christmas spirit. 🙂  Bottle not needed…but totally appreciated. 😉
Presents are (mostly) wrapped. 🙂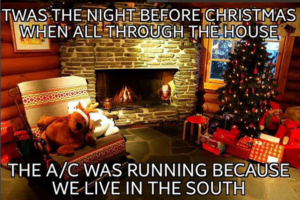 Not kidding about this one at all.  We had the air on 65 earlier today.
Since we last met…
More baking
Candied Cherry Christmas cookies.  I make these every year.  This year I used gfJules flour and this dough was unreal.  I seriously would have been happy with just a bowl of dough. 🙂
My Mema's pots and pans out on the stove plus sugar-y butter-y prunes?
That's right…it was Christmas Kolache making day. 🙂
That's Papa B helping me roll the pigs. He was so proud and wanted me to take a pic. 🙂
Those were all real wheat.
I played around with some gluten – free dough for me but it didn't turn out.
So I did this with it…
That's right I said to myself, hey you don't have nearly enough to do today why don't you make some scratch puff pastry? 😉  LOOK at those layers.  That's all gfJules flour.  No weird added ingredients just straight up flour, sugar, salt, milk, yeast and butter.  I rolled a few hot dog wieners to test it out. Plus I filled a couple little squares with the left over prunes.  I have some dough left over in the freezer that will hopefully soon become the crust for the chicken pot pie I've been craving.  I'll let y'all know how it turns out.
I really can't say enough good things about gfJules so far.  I'm liking it a lot. I don't know what has changed with cup4cup or if it's just something that changed with my taste but since having to go back to gluten – free for good something just tastes off with it. No matter what I've used it in…it's made me gag.   I was torn between trying a few different gluten – free flours and so far I'm really glad I decided to give this one a try.
Made some more peppermint cookies.
Took Mama B to pick up the Tamales.  Test tamal in the car of course. 😉
Finished the night with my second fav Christmas movie…Love Actually.  🙂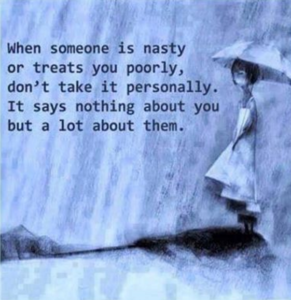 Just a little reminder for dealing with difficult people this weekend. 🙂
Merry Christmas. 🙂  Y'all have the best day if you celebrate…or a great / safe weekend if you don't and I'll see ya next week. 🙂