Hey, y'all. 🙂
How's the countdown to Christmas going in your part of the world?
Over here it's been lots of…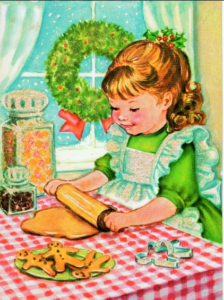 First I did a blind flour taste test with the fam. Testing out gfJules and comparing it to my beloved cup4cup. I'm impressed. It's made some good eats. 🙂
This…
Became this…
Gluten – free Irish Soda Raisin Bread  (using my own recipe)
Then this…
Became Eggnog Cookies.
Didn't get a finished pic. Sorry. They were baked then filled with eggnog icing and topped with red / green Christmas sprinkle shapes.
Then this…
Martha's Pate Brisse
Became this…
Gluten – free Pecan Pies
Then this…
Became this…
Doesn't that look like an alien face?  Or that gross salmon patty / cracker concoction our mom's used to make with that grody canned salmon that had bits of bones and stuff that looked like eyes.
Mama B's side of the fam, do y'all remember how Meme always had King Leo peppermint sticks long before you could get them everywhere?  Now they have the Peppermint bits for holiday baking. I was so happy when I saw them. 🙂
I wasn't even planning on making peppermint cookies but had to add some to the to-do list as soon as I saw the peppermint bits.  It ended up being a good decision. These are the best new cookies I've made in ages.  And they were actually a mistake.  I accidentally used much less flour than I'd planned on using so they became these crispy almost lace type cookies.  They were such a hit I've already made another batch.  I know I said I wasn't going to put a bunch of recipes here but I'm gonna put this one at the end of the post.  Y'all know the drill from the old blog…recipes after the music.
Randoms
That's gluten – free y'all.  Look at the fold on that tortilla (it's wrapped around my hand). I used gfJules flour and it made the best gluten – free tortilla I've ever had.  I used my own recipe.
Gluten – free holiday cupcakes from Gigi's. That peppermint mocha one (red – pink icing) was unbelievable. This was the first time I'd ever tried their gluten – free cupcakes.  Call me a fan.  🙂
Running around wearing leggings as pants. 😉  Aren't those adorbsies?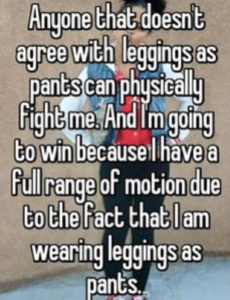 So Ted Cruz doesn't understand that the Princess Bride is about open hearts and love?  The fool who stood on the senate floor reading Green Eggs and Ham while trying to stop a vote on universal health care?  Y'all know…Green Eggs and Ham….the book with the message of not hating on something until you've ya know…actually given it a chance.  I doubt that horrible man has actually read his child a bedtime story…ever but in the unlikely event he has he's either too dumb to understand the message in a pre school level children's book or…oh never mind there's really no other explanation for that.  So yeah…totally not surprised he doesn't understand Princess Bride either.
Note to Kyler Murray (former potential future Texas A &M quarterback) The amount of bullsh.. people are willing to put up with is always always directly related to how good you are at your job or life or whatever.  Sure you were a pretty good high school football player. Guess what?  This state is FULL of dudes sitting around their garages telling stories about being pretty good high school football players.  No big deal.
Note to his dad Kevin Murray if the stories are true and you seriously told Aggie boosters they should treat you the same way longhorns treat Earl Campbell?  When I get thru dying laughing…it's not hard to see where your petulant child got his overrated sense of entitlement.  Not hard at all.  Y'all don't let the door hit ya.
All day…e'ry day, y'all.  🙂
That's it for today from my little corner of the internet.
See y'all soon with more baking.  🙂
White Chocolate Pudding Peppermint Cookies
Ingredients
2 sticks room temp Butter
3/4 cup Brown Sugar
1/4 cup granulated Sugar
1 (3.4 oz) package Hershey's White Chocolate Pudding
2 large Eggs
2 tsp Vanilla
320g Flour (about 2 1/4 cups loosely packed)
1 tsp Baking Soda
1/2 tsp Salt
1 bag White Chocolate Chips
1 cup Peppermint Bits  (or any crushed peppermint)
Directions
Ok first some notes…these are extremely temperamental. Don't try these if you don't have the patience or the time to baby them.
They are really thin and crispy.
They spread A LOT and you need to take them out of the oven while they're still a little soft. Let them firm up about 3 – 5 minutes and then carefully get them off the pan and onto a cooling rack where they should finish firming up.  Mine stuck a little both times…using different well sprayed pans.
They are totally worth the effort though. 🙂
All I did was…
Put all the dry ingredients plus chips and peppermint bits in a bowl.
Made a well and added butter, eggs and vanilla.
Then mixed it all with my hands.
I used the smallest cookie scoop and left plenty of room between each cookie.
Using that small scoop half the recipe made about 35 cookies.
I baked them 8 – 10 minutes on 325* but my ovens run hot so I have to lower temps all the time.
Know your oven. 🙂
Again I want to reiterate that small scoop of dough spreads out to a regular cookie size when baked.
Also…I didn't make these using a cup measure.  As always I weighed out the flour so I can't say how it will turn out using cup measured flour. But if you keep it loose and don't pack the flour it should be ok.
I made one batch using  cup4cup and another using gfJules.  Both worked great. I think I liked the Jules best though.