Did y'all have a nice Christmas holiday / long weekend?
With the exception of Sister B informing us that she likes One Direction 😉 ours was really nice.  I was so sick but still managed to throw together a pretty good day. 🙂
We all wore fun Christmas T-shirts to get us in the mood.   I threw in the requisite Uggs…just because.  They were a gift to myself and this is the first week cold enough to wear them.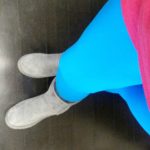 Yeah, I know they're a pretty dumb buy for someone who lives in such a warm climate but I don't care. 🙂
Plus, I'm already planning next year's Christmas week and they'll be plenty appropriate.  Wink wink rest of the fam.  😉
I finally got a picture of the tree where it looks it's true color…bright red.  This was seriously one of my most favorite trees ever.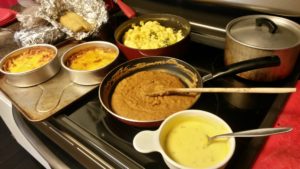 Parts of our Tex-Mex meal (before serving).
Tamales…refrieds…queso…enchilada casserole…cheese rice.  Lime sherbet punch in a cute Santa mug.  🙂
It was a very nice day with family topped off with a night of Christmas light looking.  When my Mema was alive…every Christmas Eve night we'd pile into the car and go driving around looking at lights.  As we got older she'd either buy us wine coolers at the convenience stores (yes…as we drove around) or we'd bring our margaritas with us from home.  This year I was on too much medication to drink but me and Papa B ate rum cake as we were riding around.  We joked about how we used to drink our liquor…and now we eat it.  😉   (We did the light looking thang with Meme too…minus the alcohol…so it's just really important to me that we keep up the tradition every year.)
Anyway…I finished my antibiotics and steroids today and I am finally feeling better.  I have a massage scheduled for Wed and then I'm looking forward to starting a fresh new year.  I spent the majority of this year sick and medicated…I'm so very ready for a symbolic fresh start.
Hope y'all had a Merry Christmas and that Santa brought you everything you wanted.  🙂